1960 Chevrolet Nomad Station Wagon
With vintage camping trailer
This car belongs to Stephen Pasztor, a ChevyTalk.com member. It wears the same rare Suntan Copper over Ermine White paint job as the Nomad owned by Kiwinomad. Here he is towing his retro camp trailer. Cool!
Year:
1960
Brand:
Chevrolet
Model:
Nomad
Body Style:
Station Wagon
Owner Name:
Stephen Pasztor
Item viewed 10228 times, created on 2009-02-04 14:34:10, last modified on 2009-02-09 19:48:43.
---
CLICK THUMBNAILS BELOW FOR FULL SIZE IMAGES.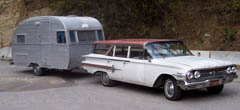 1960 Nomad Wagon towing a streamline trailer.