Accessory codes have been a mystery for many years for more than one reason. Primarily, this information has never been published by General Motors. What little is known about accessory codes has been learned through extensive study of the cowl tags on known-original vehicles over the past several decades. Organizations such as the New Jersey Late Great Chevy Club have a fairly comprehensive understanding of these accessory codes and will decode your cowl tag for a small fee. However, in the interest of protecting the historical integrity of genuine highly optioned vehicles, they have not published this information. When they decode a cowl tag they will not specify that a certain accessory code equates to a specific feature… instead, it is a more broad approach… "your car was equipped with such and such accessories". There certainly are people out there who would counterfeit high-option cowl tags if this information was available to them, but many will argue that this information should be freely available regardless. The information provided here is for the most part, a best-guess. Much of this information was taken from other sources on the internet and through our own examination of various cars.
The accessory codes are shown after the word "ACC" on the cowl tag. If you don't know where to find your cowl tag, click HERE.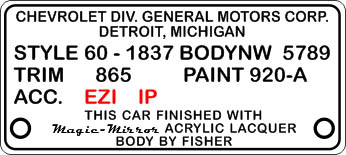 Codes can consist of any combination of letters and numbers. Each code is typically separated by a space or sometimes a dash. Codes are not consistent between manufacturing plants, so the list of possible codes could become very long. It is also possible that a code used at one plant to represent one accessory could means something else at a different plant. In the above example, "EZI" indicates E-Z-I tinted glass, and "IP" indicates a padded dash (perhaps, IP stands for Instrument Pad?).
| | |
| --- | --- |
| Code | Description |
| B | ? |
| C | Padded Dash |
| CP | Padded Dash |
| D | ? |
| E | Tinted Glass |
| ES | Power Seat (Electric Seat) |
| EW | Power Windows (59) |
| EZI | Tinted Glass |
| EZW | Tinted Windshield, but sometimes all glass. |
| FR | Power seat? |
| F&SO | Fleet & Special Order |
| IP | Padded Dash |
| L | Four-Speed |
| PAD | Padded Dash |
| PE | Unknown but NOT "Power Windows & Seat" as prev. documented. |
| P-S-W | Power Windows & Seat |
| PW | Power Windows |
| R | ? |
| SA | Power Seat |
| SY | Bench Seat (59) |
| T | Possibly Turboglide? |
| TG | Possibly Turboglide? |
| V | ? |
| W8 | Possibly 348 engine? |
| X4 | ? |
| 12B | ? |
| 4C | Air Conditioning |
| 6 | ? |
| 6A | Padded Dash ? Power Brakes? |
| 8 | ? |
| 37A | ? |
| 37B | ? |