Looking for information about 1960 Chevrolet passenger cars? Check out the RESEARCH page.
Welcome to 60impala.com! This blog follows the resurrection of a 1960 Chevrolet Impala Sport Sedan, known to enthusiasts as a "Flat Top".
Not too many 4-door cars get restored since tradition emphasizes that only 2-door cars are cool. Many 4-door cars have been stripped and sent to the crusher to save 2-Door Hard Tops, Convertibles, El Caminos and Sedan Deliveries. However that way of thinking has started to change as we see the value of these more popular body styles skyrocket. The recent popularity of station wagons has also helped warm the hearts of old car enthusiasts to the idea that 4-door models can be cool. Even old school 2-door thinkers will often admit that the roofline of the 59-60 General Motors 4-door hard-top cars is pretty cool. This particular car was equipped from the factory with optional EZ-Eye tinted glass, padded dash, deluxe heater, dual rear antennas and a 230 h.p 283 c.i "Super Turbo Fire" V-8.
What is the plan? To rebuild this car from the ground up into a mostly-stock car but with a few upgrades and possibly some mild custom touches. The final look of the car flip-flops around several ideas as time goes on, but rest assured it will be cool! I used Adobe Photoshop to modify a few pictures of original cars to try some build concepts. Here are a few that are being seriously considered: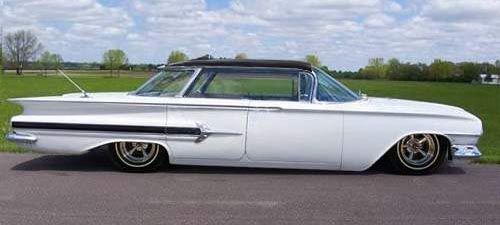 Check out the links in the column to your right. You can navigate all the blog entries made regarding the build of this Impala by date, category, or by the most recent postings. Also feel free to leave comments!
Update March 2021:  I haven't given up! The project is still ON. Though it's been dormant for a LONG time, I'm finally catching up on other projects and will be resuming work on the Flat Top soon!
Update January 2014:  As for the "look", the body and interior will be all stock, however the engine will be a modern 5.3l Chevrolet LM7 v8.  The choice for wheels has yet to be decided… maybe it'll get Astro Supremes, maybe "big" 5 spokes, maybe stock hubcaps and wide whites… decisions, decisions!
Update December 2009:  The color has been decided. It'll go back to it's original color of Ermine White.