So the paint color is finalized. No more waffling between red, black, copper, white, black, copper, white, red, etc… I purchased a gallon of 1960 Chevrolet Ermine White PPG Concept Acrylic Urethane, their top of the line single-stage paint. I was advised by my paint guru, Tom Mertens at Professional Finishes in Spokane, WA that this color was an easy formula, and that buying more paint in the future should not cause a color-match problem. So, I'm starting with one gallon, with option to buy more should I need it.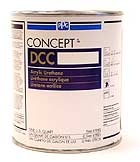 I'll be using a highly efficient Iwata LPH-400LV HVLP spray gun, which puts out very little overspray and maximizes the mileage you get from your paint. I bought the gun two years ago, specifically to do this car. I guess I was a little optimistic on the time-line!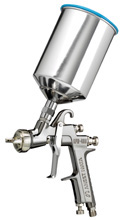 The interior color has not been decided for sure yet, although originally the plan was to go with the black/white, which is what it came with when new. But lately I have been liking the idea of going with a red interior. Red really pops, and it would allow me to paint the wheels red too. A red rim, peeking out between the hubcap and the wide-whitewall tire just looks killer!