If you don't know where to locate your VIN and cowl tags, click HERE before reading the rest of this article.
Both the VIN tag and the cowl tag both contain codes which will tell you where your car was built. The most reliable will be the VIN tag, since it is not legal or easy to change. The cowl tag should match, but it is possible for a different cowl tag to have been installed in an attempt to make a car appear to have originally been equipped with a more desirable color or rare options.
VIN tag format
The 5th character in the series of numbers on the VIN tag indicates the manufacturing plant. For this example, "L" indicates Los Angeles, CA. The number following this, "173802" is the production sequence number starting at 100001 for the indicated assembly plant. See the column titled "VIN Code" in the chart shown below for assembly plant codes.

Cowl tag format
The assembly plant code is indicated on the cowl tag after the word "BODY". In this example "NW" indicates Norwood, OH. The number following that, "5789" is the body sequence number assigned at Fisher Body. This number will not match any numbers found on the VIN tag. See the column titled "Cowl Code" in the chart shown below for assembly plant codes.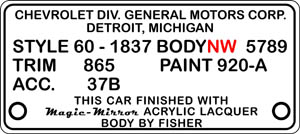 Assembly plant codes
| | | | |
| --- | --- | --- | --- |
| VIN Code | Cowl Code | Assembly Plant | Note |
| A | AT | Atlanta, GA | |
| B | BA | Baltimore, MD | |
| B? | EP | Cleveland, OH | Wagon and Sedan Delivery only |
| F | FB | Flint, MI | |
| G | FR | Farmingham, MA | |
| J | JA | Janesville, WI | |
| K | KC | Kansas City, MO | |
| | LA | Lansing, MI | Convertible & Sport Coupe only |
| L | VN | Los Angeles, CA | |
| N | NW | Norwood, OH | |
| O | OA | Oakland, CA | |
| S | SL | St. Louis, MO | |
| T | TA | Tarrytown, NY | |
| W | WR | Willowrun, MI | |