This article will cover engine identification for 1960 Chevrolet full size passenger cars. This includes all models… Impala, Bel Air, Biscayne, Nomad, Kingswood, Parkwood, Brookwood, El Camino and Sedan Delivery. First we will look at how you can identify the engine before you even open the hood, by looking at the cars badging. Then we will take a look at what variations of these engines were available and how to identify them by their features and casting numbers.
Exterior Badging
For 1960, Chevrolet had 3 different plastic grill badges that could have been installed on the car depending on which engine it had. They are as follows:


A Chevrolet shield with no "V" below indicates that a 235 cubic inch inline six-cylinder engine is under the hood.


A Chevrolet shield with a gold "V" below it indicates that a 283 cubic inch V-8 resides inside.


Crossed flags with a gold "V" tell us that a 348 cubic inch V-8 is installed.
These plastic emblems are installed in the center of an aluminum housing located in the middle of the grill.
The rear of the car also carries an identifying emblem. The shield, "V", and flags combination rules apply the same as for the grill emblem. They are as follows: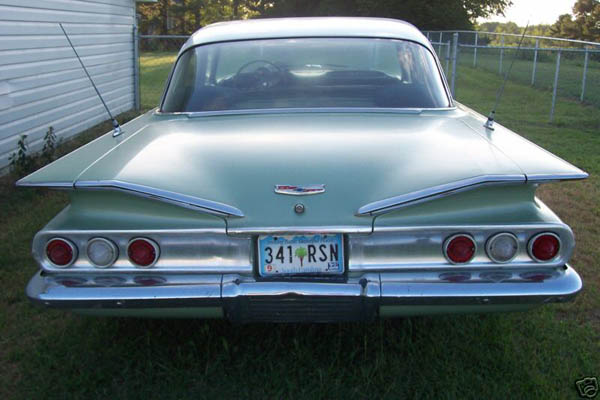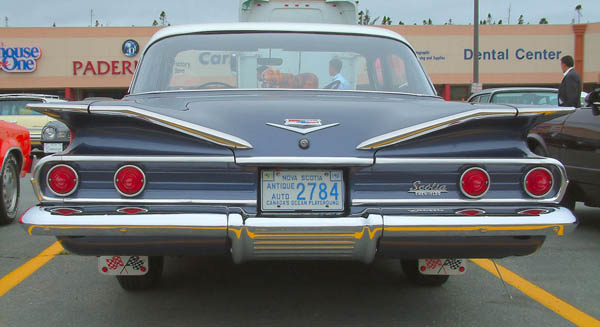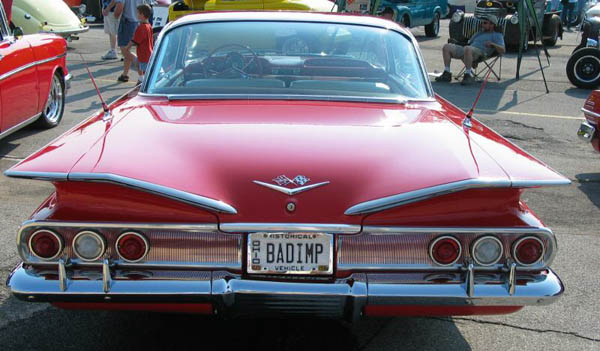 The emblem on the rear of the car is also plastic, but it is housed by a chromed pot-metal retainer. The "V" and the cross-flags are also chromed pot-metal. The larger shield used on six-cylinder cars is actually the same part used on the trunk lid of 1956 Chevy V-8 cars.
Visual Identification
This one is easy, but we'll go over it anyway. If you don't know this one, maybe you should stick with your Prius.