Just bought a few more NOS parts! Fender ornaments and hood letters. Both of these items are reproduced. But, as always I prefer to buy NOS if possible. I had already purchased a set of the reproduction fender ornaments but was disappointed to see that the chrome was very poorly done. I had also purchased a set of "NOS" hood letters before, but those turned out to be corrosion pitted and clearely USED parts that someone was trying to pass off as NOS! Come on people, really!?? So here's a comparison of the NOS fender ornaments and the reproductions.
Can't tell the difference in the picture? The one on the right is the repro… you can tell by the clarity and smoothness of the chrome in the original. In person it's fairly obvious. The castings themselves on the repro's aren't all that bad. You could clean up the edges of the castings (sharpen them up a bit) and re-chrome for a great look, but why bother? NOS isn't THAT difficult to find… they do turn up. Here's a close-up shot that shows how the repro's fall down in chrome quality and detail sharpness.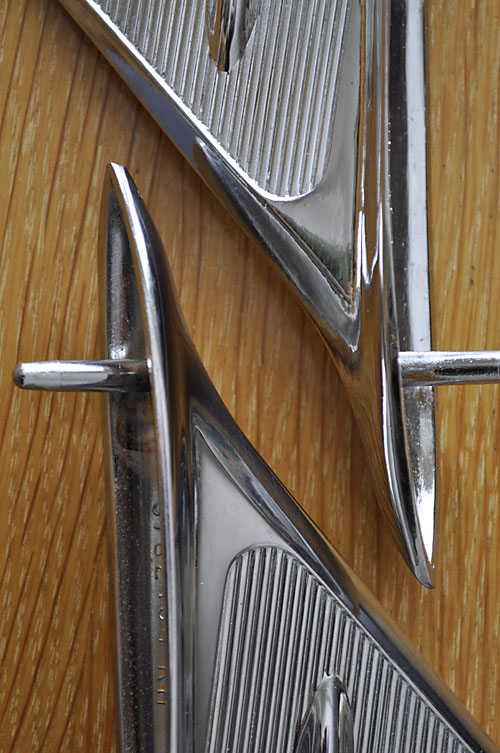 The reproduction is on top. What you can't see is the edges of the fin where the molds were parted. This area is belt-sanded to a nice crisp line on the originals, but is vague and even crooked on the repro's.
Here's a shot of the NOS hood letters. How they compare to the reproductions I don't know since I've never had any of the repro's in my hand. These letters are the same parts used in 1961.