As stated in a January 6th post, NOS (New Old Stock, original parts that have never been used) parts can often be had for around the same price as reproduction parts, and sometimes even for less! This does however take patience, because the truth is, the stuff is getting harder to find all the time. Thanks to eBay, this search is made much easier… I just use eBay's "saved searches" feature that automatically tells me via email when NOS stuff for 1960 Chevrolet's is available. Using this handy feature, I've collected quite a few nice pieces for this restoration project. Many times I've found the quality of reproduction parts to be less than satisfactory. Sure, if you absolutely can't find the parts in restorable condition, then there is no room to complain… however, NOS GM original parts are unbeatable!
The quarter panel flags that are reproduced look OK. They are cast in zinc or pot-metal, I'm not sure. They are then plated with gold, or something that looks like gold. Compared to an original GM produced emblem, which was cast in aluminum and anodized in a subtle shade of gold, the reproductions look awful. If you are restoring your original aluminum emblems, notice that the red paint used has a very orange hue to it. No, the color is not faded, all four of the NOS emblems I have (a couple spares) are the same. I never did get any installation clips with these emblems, so if you have any you'd be willing to sell, please let me know! I tried contacting Trim Parts about buying the clips, since they are the ones (I believe) who reproduce the emblems, but they didn't respond to my emails. Bummer! They were cool when I asked about buying the retainer rings for my NOS hub cap spinners, but I guess not this time.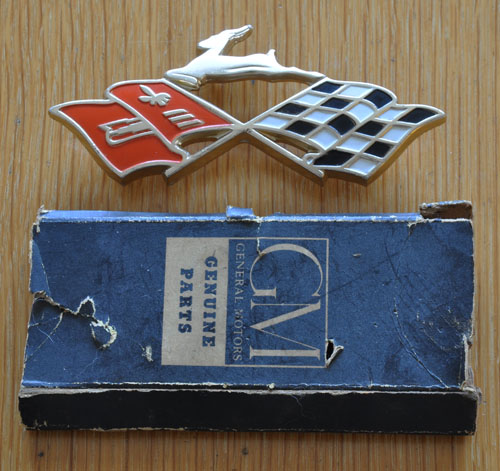 ---
The Impala script emblems are available in reproduction and look to be of good quality, but I was able to procure a NOS pair from eBay for less money, so it was a no-brainer.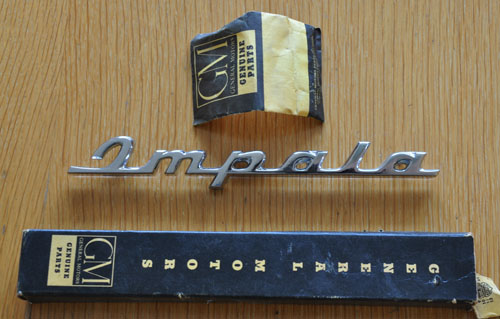 ---
These NOS door edge guards are a dealer add-on accessory. I'm not sure I will use them. I got them because they were a good deal.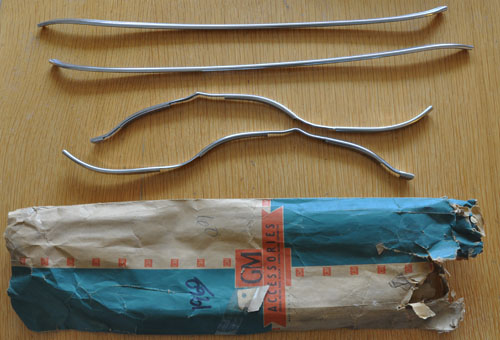 ---
This NOS radio bezel was listed as a BUY-IT-NOW item for $50, so I had to act fast with it's purchase. I figured it would cost more than $50 to have one re-chromed, and even then it wouldn't be as nice as NOS so I bought it.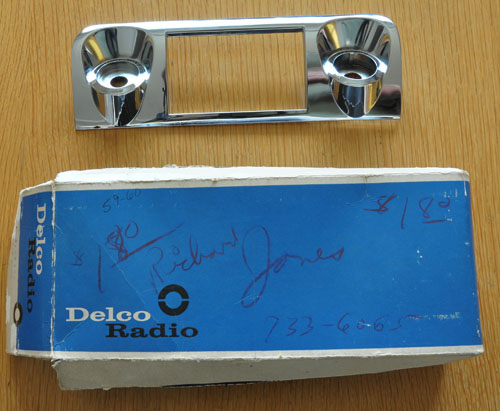 ---
These steering wheel chrome inserts (the boomerang, I like to call it) are also available reproduction, but I got this NOS unit for about the same price… so again, a no brainer.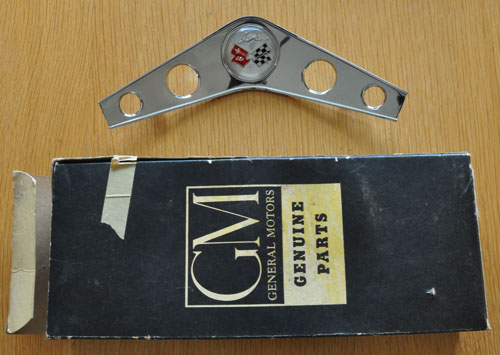 ---
Another item that is reproduced, but once again purchased on eBay for about the same price. Unfortunately, one of the brackets that goes on the inside of the housing is incorrect. There are two right-side brackets, but no left-side. I'll have to pull one from a junk housing I guess. The emblem is the correct 283 v-8 style.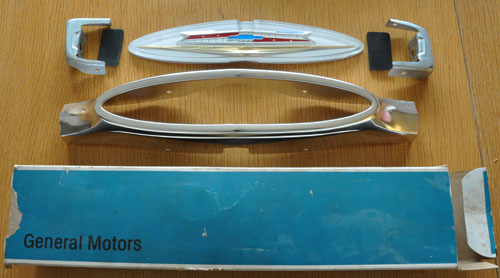 ---
The windshield washer jar is an item that is not yet reproduced for 1960. You can get one for 1959, and I think it may even fit, but for the correct 1960 unit you need to find a good original or luck out and find NOS like this one. The lid is not NOS, it came from a separate eBay auction and is warped a bit, but I may get brave and try heating it slightly with a heat gun to flatten it back out.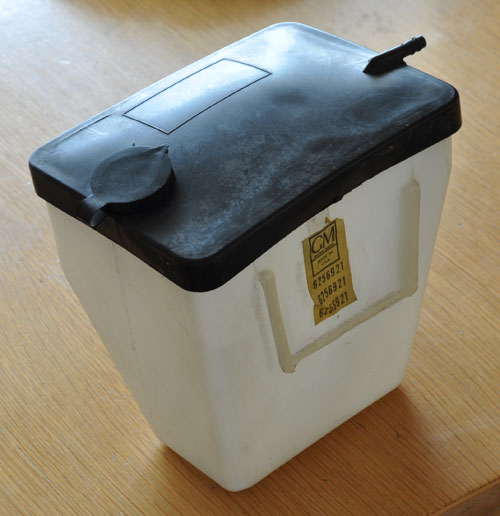 ---
Fingernail guards for the door handles. These are a popular dealer-added accessory. They reproduce these too, but this set of four is NOS and includes the screws.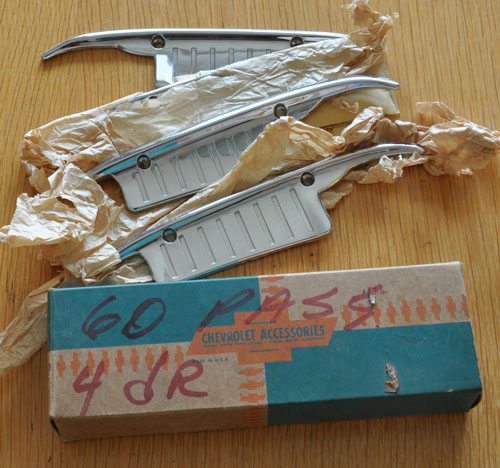 ---
Tail light lenses are something that is usually available reproduced. There was even at least two aftermarket companies making lenses in the 60's and 70's that made them. Look out for Glo-Brite, and Do-Ray. The Glo-Brite lenses are pretty crude, but I don't know that I've seen any Do-Ray's so I can't speak for those. I don't have any backup-light lenses yet, those seem to be harder to find as NOS GM "Delco" or "Guidex" parts.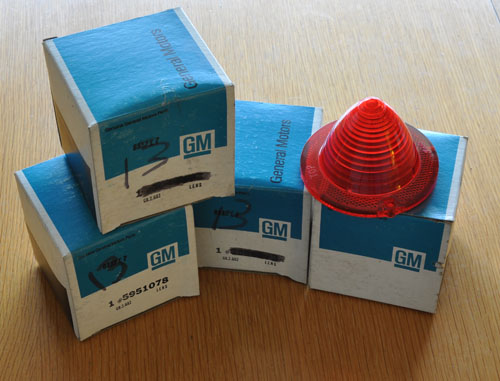 ---
I've always liked the look of the 2-bar wheel spinners on the full wheel covers. Really makes for a cool look, especially with that plastic crossed-flags emblem in the middle. Reproductions are pretty expensive, and over $300 for a set. The repro's are actually pretty darn nice quality, but I was able to find a set of NOS units for once again, LESS money! To my surprise however, the set I bought turned out to be missing the steel retaining ring on the back side. I emailed Trim-Parts, the company who makes the repro's and they were nice enough to hook me up with a set.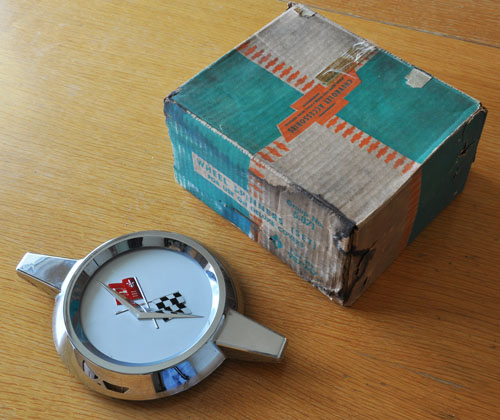 ---
I've got a few front license plate valance panels to choose from, most pretty beat up but one that is pretty restorable. But, as luck would have it… a NOS unit in the box turned up on eBay. I was able to purchase it for just a little bit more than the price of a reproduction.